Now that the CHOGM is underway, there are certain issues that have to be discussed in the Summit.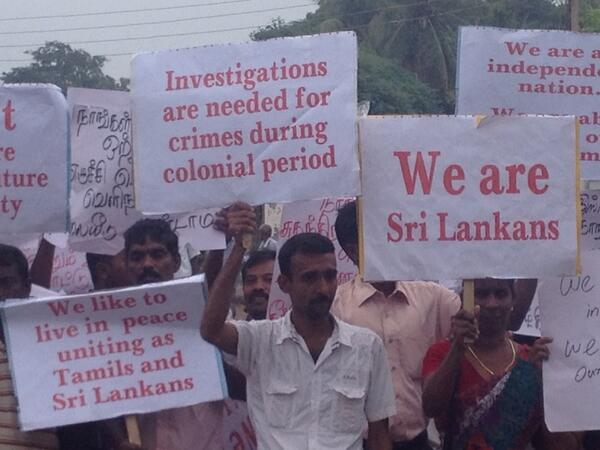 I have written about the spineless cowardly act of India in sending Indian Foreign Minister to attend the CHOGM in Colombo.
After David Cameron's statement  that abstaining from the summit would not serve any purpose but raising the issue at the Summit.
This seems to me a very productive approach.
He added that he intended to visit the northern area affected by Genocide,though he called it the 'affected area' and true to his words, he proceeded there.
The news is that he was mobbed by the affected people , giving vent to their anguish,
"David Cameron's motorcade was 'mobbed' by protestors as he travelled through northern Sri Lanka.
Uniformed police fought with a crowd of up to 200 Tamils, many of them women brandishing photographs of missing relatives, who sought to hand over letters and petitions to the PM.
At least two women were able to get up close to the windows of Mr Cameron's car, as the motorcade departed from the visit.
The women who managed to reach the PM's car were seen to be thrown aside by Sri Lankan police officers. Cameron had just left a library building when the incident happened…
"
Rajapakshe in his address to the CHOGM  Press meet  is reported to have said that though there have been violations of Human Rights in the past, meaning LTTE, he was prepared to take action if proof of war crime is provided.
Well ,Mr .Rajapakshe, here it is.
https://ramanan50.wordpress.com/2013/03/29/rape-of-tamil-women-in-sri-lanka-photos/
https://ramanan50.wordpress.com/2013/10/02/tamil-women-children-killed-in-sri-lanka-gruesome-images/
https://ramanan50.wordpress.com/2011/04/26/un-panel-indicts-sri-lanka-on-tamil-genocide-videos/
The videos in the above post are unavailable as they were removed by YouTube  because of gruesome content.
Read under Sri Lanka for more images and stories.
Source:
http://www.huffingtonpost.co.uk/2013/11/15/david-cameron-tamil-protestors-northern-sri-lanka_n_4279759.html