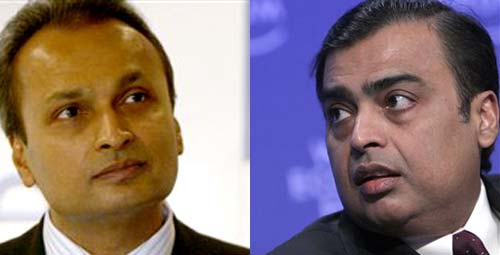 http://www.outlookindia.com/article.aspx?268406
Click on the Link above for Audio.
Also click appropriate links  in http://www.outlookindia.com/article.aspx?268406 for further audio.
This seems to be endless.
Despair that's all one can have.
While the Spectrum scam tapes have been talked about, what has not received adequate notice so far is the lobbying and controversy surrounding the division of gas between theAmbani brothers. The conversations in this set seemingly include journalists Vir Sanghvi of the Hindustan Times; Prabhu Chawla of the India Today group; and G. Ganapathy Subramaniam and M.K. Venu of the Economic Times…
While we are yet to fully absorb and understand the various intricacies and ramifications of the very many conversations on record, and clearly, there are many serious issues at stake here including those of privacy (who authorised these taps), timing of their made public and on-going corporate wars but it is eerie how casually a discussion, for example, about the battle for power sector involving Tatas and Reliance in Maharashtra segues into instigating the likes of Shiv Sena and other groups like the MNS and how easily corporates play and manoeuvre the "protests" by goon-gangs of political outfits to further their ends.
Also, how easy it seems for these power-brokers to casually fix not just politicians — e.g.Venkaiah Naidu of the BJP here is mentioned as amenable to persuasion, as against Arun Shourie, for example — but also, in their narration, the higher judiciary.
Some of the abbreviations:
MM: Manoj Modi, Mukesh Ambani's right hand man in Reliance
Ganu: G. Ganapathy Subramaniam of the ET
MDA: Mukesh Dhirubhai Ambani
MK Vinu/Vinu is M.K. Venu
Following files said to be K. Venugopal, Editor, Hindu Business Line
Vinu-fudged RCOM figs-gas-Curse on AmarSingh-20090616-200515 &
Vinu perhaps-All issues-mainly spectrum-20090616-195137
The file-names below are as in the CD handed over to the Supreme Court. They seem to follow the format of the date and time of the recording in the file name, thus -20090620-143207 seems to refer to a recording of 14:32:07 on 20 June, 2010.
M.K. Venu: You saw Rohini's story. It has come today.
Niira Radia: No, I haven't seen it. I'm going to see it now. I finished at 1.30 in the night.
MK: But it's all tucked away. You're also keeping Manoj Modi's timings. 2 o' clock!
NR: It's tucked away, is it?
MK: Yeah, but in ET you can't miss it. It is the inside page but it's the top half, the lead story of the page.
NR: You know this one, Ganapathy has been chasing me but I don't want to give it to him. I have a letter from the Andhra chief minister.
MK: Hmm.
NR: I don't want to give it to him, I am scared to give it and find the story killed. What do you think I should do? He has given a scathing attack. He has written to the PM.
MK: The Andhra CM. Two years ago, he used to sing Anil Ambani's tune. It is a very strong letter, yaar.
NR: Kya karoon yaar. I don't want it tucked away.
MK: Objective advice. Isko aise akhbar ko do jo isko lead flyer carry kare. Isko CNBC ko do. Then these people will be adequately provoked. If CNBC carries it as a lead 10 times a day, then everyone will start running helter skelter. If I was the editor, Rohini's story was a clean Page 1, top half, like a lead story. Do you think a letter to the MD is possible? Broadly saying that we congratulate the launch of ET Now and then you can raise this issue that there is this raging controversy that is of national interest and we hope you can take which is, you know, which is in keeping with what Y.S.R. Reddy has written. Aisa karke you should lagao one.
NR: How is Prabhakar Sinha in Times?
MK: My information is that he and his brother Arun Kumar are retainers on the other side. About Arun Kumar, I am quite sure. He and Sandeep Bamzai used to be so openly partisan. I met Shekhar Bhatia at dinner, he used to be executive editor then, he told Sandeep Bamzai ki kam se kam ek hafta to chhod do. At least three to six months, you don't plug him. This is what Shekhar Bhatia told him publicly.
NR: Yes, I don't blame him. I met Sukumar and Sanjoy Narayan.
MK: That Sanjoy Narayan has an old friendship with that Tony (Jesudasan), na? They have some great common interests.
http://www.outlookindia.com/article.aspx?268085